Life-cycle greenhouse-gas emissions of energy sources
Category: Carbon Footprint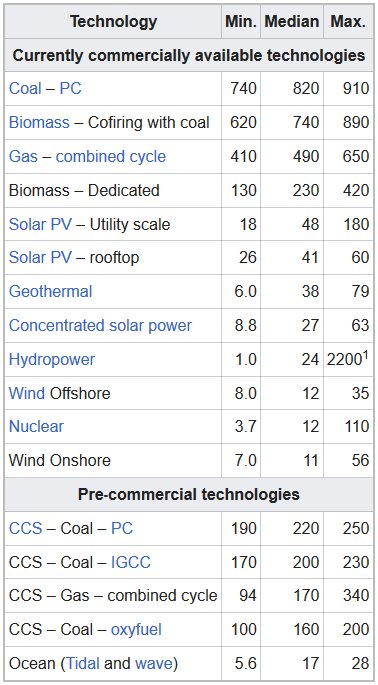 Measurement of life-cycle greenhouse gas emissions involves calculating the global-warming potential of electrical energy sources through life-cycle assessment of each energy source. The findings are presented in units of global warming potential per unit of electrical energy generated by that source. The scale uses the global warming potential unit, the carbon dioxide equivalent (CO
2e), and the unit of electrical energy, the kilowatt hour (kWh). The goal of such assessments is to cover the full life of the source, from material and fuel mining through construction to operation and waste management.
NPPD: Nuclear Plant at '100%,' 'No Leakage,' Missouri River Levels 'Trending Down'
Category: Zero Carbon Nuclear
by Joe Jordan
Omaha, NE.—Despite flood waters cutting off the main road in and out of town, officials with the Cooper Nuclear power plant in Brownville tell us the the plant continues to operate at "100 percent" as of 5 p.m. Saturday.
Minnesota Madness: Big Freeze Exposes Wind & Solar's Deadly Flaw – Hopeless Intermittency
Category: Energy Issues
Power consumers pinning their hopes on the weather, inevitably learn to expect mixed results. 200,000 Victorian businesses and households learnt the hard way, as a sudden wind power output collapse left them sweltering during a summer heatwave.
At the other end of the temperature spectrum, the risk of being powerless is even more serious. The elderly and frail do not last long without reliable and affordable energy to heat their abodes.
Across America's Mid-West a burst of frigid weather has exposed the fatal (literally) flaw in wind and solar power: they're never there when you need them most.
Stored Waste
Category: Energy Issues
Nuclear goes retro — with a much greener outlook
Category: Zero Carbon Nuclear
(This article contains basic, easy to understand information about nuclear energy production, kv)
By M. Mitchell Waldrop
Returning to designs abandoned in the 1970s, start-ups are developing a new kind of reactor that promises to be much safer and cleaner than current ones.
Troels Schönfeldt can trace his path to becoming a nuclear energy entrepreneur back to 2009, when he and other young physicists at the Niels Bohr Institute in Copenhagen started getting together for an occasional "beer and nuclear" meetup.
The beer was an India pale ale that they brewed themselves in an old, junk-filled lab space in the institute's basement. The "nuclear" part was usually a bull session about their options for fighting two of humanity's biggest problems: global poverty and climate change. "If you want poor countries to become richer," says Schönfeldt, "you need a cheap and abundant power source." But if you want to avoid spewing out enough extra carbon dioxide to fry the planet, you need to provide that power without using coal and gas.
It seemed clear to Schönfeldt and the others that the standard alternatives simply wouldn't be sufficient. Wind and solar power by themselves couldn't offer nearly enough energy, not with billions of poor people trying to join the global middle class. Yet conventional nuclear reactors — which could meet the need, in principle — were massively expensive, potentially dangerous and anathema to much of the public. And if anyone needed a reminder of why, the catastrophic meltdown at Japan's Fukushima Daiichi plant came along to provide it in March 2011.
On the other hand, says Schönfeldt, the worldwide nuclear engineering community was beginning to get fired up about unconventional reactor designs — technologies that had been sidelined 40 or 50 years before, but that might have a lot fewer problems than existing reactors. And the beer-and-nuclear group found that one such design, the molten salt reactor, had a simplicity, elegance and, well, weirdness that especially appealed.